Understanding Your Criminal Record
Questions such as 'what goes on a criminal record?' and 'how long does a criminal record last?' are much more common than you might think. In this guide, specialist DBS solicitor Mark Hopwell explains the answer to these and a range of other queries relating to criminal records, DBS certificates and the DBS barring process.
Read on to learn about:
Use the links above to jump to the relevant sections.
What is a criminal record?
A criminal record is a log of all information regarding a person's criminal history on the Police National Computer (PNC). In addition to any convictions, these records contain information about cautions and also 'soft intelligence' – this includes arrests records, no further action (NFA) allegations and non-conviction outcomes at court.
Which offences go on a criminal record?
All unspent convictions and cautions go on a criminal record and will also be included on a Basic DBS Certificate. As well as criminal convictions, a person's record provides details of any penalty notices they have received. 
Fixed penalty notices include fines for speeding, littering and petty shoplifting. If an individual has received a penalty notice for disorder, this will also appear on their record.
How to check your criminal record
If you want to find out what is on your criminal record, you can apply for a copy of the details held on the Police National Computer (PNC) through ACRO.
How long does a criminal record last?
The length of time that a conviction remains on an individual's record depends on the nature of the crime, how much prison time they have served and their age at the time of the offence. Convictions carrying sentences of less than four years may become 'spent' after a specified rehabilitation period.
Under the Rehabilitation of Offenders Act 1974 (ROA), convictions for individuals who were 18 or over when the offence took place will become spent after 11 years from the date of conviction. If the person was under the age of 18 at the time, the rehabilitation period is reduced to 5.5 years.
In order for a conviction to become spent, the individual must also have maintained a clean record since the time of the initial crime. Moreover, their crime must not have been considered serious enough to be a safeguarding issue.
If the prison sentence was longer than four years – including suspended sentences – then the conviction will remain 'unspent' on an individual's criminal record permanently.  
What are the consequences of having a criminal record?
A criminal record may impact an individual's ability to get a job and their eligibility for housing benefit among other things. Convictions for violent or sexual crimes have the most significant effect on what a person can and cannot do after they have served their prison sentence. 
That said, convictions for crimes that don't fall into these categories can still make it difficult to gain employment or access loans and insurance. Potential employers can check your criminal record via a DBS check (more on this below), and any convictions or cautions that are disclosed may influence their decision about hiring you.
How to clear a criminal record
Although some convictions become spent after a rehabilitation period, individuals can appeal against a conviction in the courts prior to this. It is recommended that you seek independent legal advice before attempting to do so.
Criminal records also contain details of any cautions alongside other police information such as arrests records, no further action (NFA) allegations and non-conviction outcomes. You can apply for the removal of this information with the help of our specialist police caution removal solicitors.
See the infographic below to learn more about the consequences of having a criminal record, DBS certificates, DBS barring and how our services can help.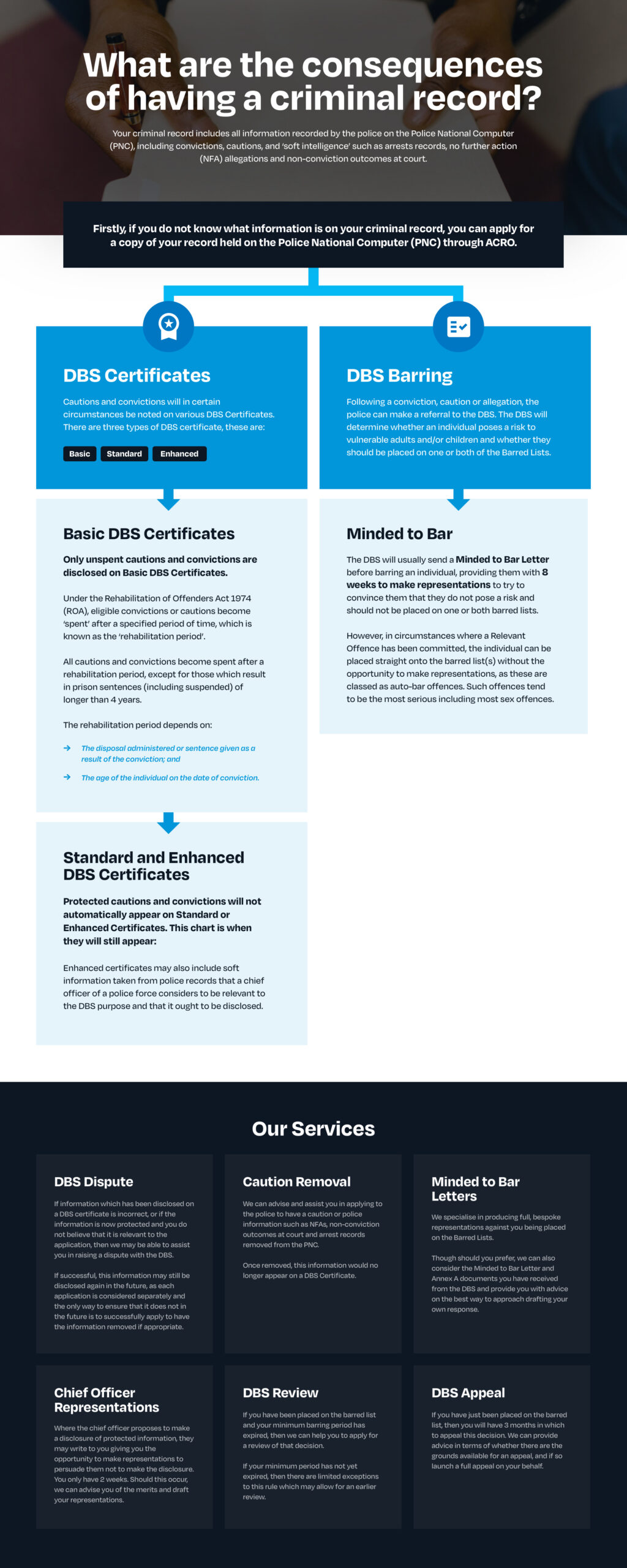 What is a DBS check?
A Disclosure and Barring Service (DBS) check is used by employers to find out about an applicant's criminal record. Previously known as 'CRB checks', these are required for many different jobs – safeguarding roles in healthcare and childcare may need more detailed checks.
If you are subject o a DBS check and the certificate discloses details that are incorrect (or you believe them to be protected or irrelevant information), you may be able to raise a dispute with the DBS. We would advise you to contact our industry-leading DBS disputes solicitors before doing so.
The different types of DBS checks
There are three types of DBS checks, with three corresponding DBS certificates: Basic, Standard and Enhanced. 
Read on to learn more about each of these certificates and the roles that require them.
Basic DBS checks
A Basic DBS check only considers unspent convictions and cautions. If enough time has passed for a conviction to become spent, it will still appear on your criminal record in the Police National Computer (PNC) but will not be included in a Basic DBS Certificate.
You may be asked to undergo a Basic DBS check as part of a job application, although this is not a legal requirement for any particular job type. Individuals are also allowed to apply for a DBS certificate themselves.
Visit the gov.uk guidance on Basic DBS checks for more information.
Standard DBS checks
A Standard DBS certificate contains both spent and unspent convictions as well as cautions. You cannot apply for a Standard DBS check yourself.
Many professions require a Standard DBS check, including:
Veterinary surgeons 

Accountants

Actuaries 

Traffic officers

Court officers

Solicitors (and many other roles in the legal profession).
Enhanced DBS checks
An Enhanced DBS check is the most comprehensive type. Enhanced DBS certificates will outline all of the information included in a Standard check, but will also offer more detailed descriptions of any convictions. In addition, the police will include additional information that they deem to be relevant based on the context of the DBS check.
Jobs that involve caring for children or vulnerable adults will typically require an Enhanced with DBS Barred List check – in this situation, the certificate will also state whether the individual appears on either the DBS Children's or Adults' Barred List (whichever is applicable).
The DBS barring process
This brings us onto the other function of the Disclosure and Barring Service: maintaining and updating the DBS Barred Lists, which include individuals who are banned by law from working with children, vulnerable adults or both due to a previous conviction.
A person may be referred to the DBS to determine whether they should be added to one of the DBS Barred Lists as a result of a conviction, caution or allegation. The DBS will then make the decision as to whether or not they pose a risk to children or vulnerable adults and act accordingly.
Before barring someone, the DBS will send a Minded to Bar Letter. From here, the individual has eight weeks to make representations convincing the DBS that they do not pose a risk and should not be placed on one (or both) of the lists.
However, in circumstances where a Relevant Offence has been committed, the individual can be placed straight onto the Barred List(s) without the opportunity to make representations – these are classed as auto-bar offences. Such offences tend to be the most serious, including most sex offences.
Richard Nelson LLP specialises in producing full, bespoke representations against you being placed on the Barred Lists. We can also consider the Minded to Bar Letter and Annex A documents you have received from the DBS and advise you on the best way to approach drafting your own response. Contact our DBS solicitors for support.
How Richard Nelson LLP can help
Whether you require assistance with police caution removal, disputing a DBS certificate, responding to a Minded to Bar Letter, or appealing a decision to bar, our team of specialist DBS solicitors is on hand to help.
Contact us today for a free consultation and advice on the best course of action.